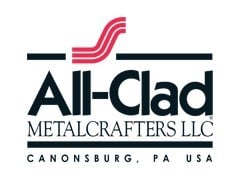 Cook with an American legend.
Originally designed to meet the demands of professional chefs, All-Clad is the undisputed choice in top culinary circles and four-star kitchens throughout the world. Today, it is also a prized possession of uncompromising home cooks.

No cookware can rival its exquisite lines, impeccable balance, innovative technology, meticulous hand-finishing and construction warranted to last a lifetime. Every piece is handcrafted with a revolutionary bonding process that uses a proprietary recipe of metals. The result? Exemplary cooking performance.

All-Clad is made in Canonsburg, Pennsylvania, the same way it was four decades ago. Here's your chance to cook with an American original – and bring legendary performance to your kitchen and every meal.
No products found