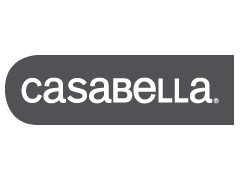 Casabella was created with the novel idea that housewares and cleaning products could be great looking, fun and functional all at the same time.
This was a radical concept in the 1980's; today it is embraced worldwide. We invest our resources in the creative process to examine everyday tasks and design ergonomic and good looking tools. Why shouldn't you leave your broom out? Why shouldn't a mop have a washable head so it is always super clean when you get started? Why can't dishwashing gloves be hot pink?

With focus on product and graphic design we strive to deliver products that are attractive, intuitive and supremely functional. That's our challenge!
We design, assemble, and distribute products from our New York headquarters. The Casabella Team is comprised of people who work hard every day to keep the company moving in new and better directions. We believe we can always do better and strive to identify improvements in our processes as well as our products.
Manufacturing is contracted from a global network of approved and certified factories, including the production of over a million individual pieces made in America.

We are proud to sell our products through a fabulous network of retailers in the United States, internationally, and on the web.

Twenty five years of good design, with a focus on function and ethical business practices have built our business. Thank you to everyone who is part of our story: employees, consumers, investors and believers!
No products found